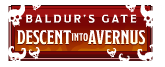 Adventures
Campaigns
The Lost Hollyphant is one of the adventures in the campaign Baldur's Gate: Descent into Avernus.
Follow Lulu's cries across Avernus as you race to rescue her!
Requirements

Objectives
Complete Area 325
Restrictions
Rewards
×650 ×???
Formation
Variants
[
]
Zapper Overload
[
]
Follow Lulu's cries across Avernus while the Demon Zapper uses the Champions as target practice!
Requirements
Objectives
Complete Area 375
Restrictions

Only Champions with STR of 13 or higher can be used.
In areas 1-40, the Demon Zapper is overcharged, overloading, and targeting the Champions!
Champions zapped take damage and are affected by one of the following effects:
Teleport - The Champion is removed from the formation.
Sear - The Champion takes 50% more damage from the beam for each Champion adjacent to them.
Enfeeble - The Champion's damage drops to 0 for the next 30 seconds.

Rewards
×750 ×???
Formation
Patron: Mirt
Complete Area 475
×6.03e05 ×4,700
Patron: Vajra
Complete Area 500
×9.54e05 ×5,750
Patron: Strahd
Complete Area 525
×1.51e06 ×7,050
Patron: Zariel
Complete Area 550
×2.38e06 ×8,650
Best Friend Search Squad!
[
]
Follow Lulu's cries across Avernus with a distracting Bubbles and Cinnamon at your side!
Requirements
Objectives
Complete Area 425
Restrictions

Bubbles & Cinnamon have formed a search party for Lulu, joining the formation for this adventure. Enemies drop 99% less gold.

Rewards
×850 ×???
Formation
Patron: Mirt
Complete Area 525
×1.50e06 ×7,050
Patron: Vajra
Complete Area 550
×2.38e06 ×8,650
Patron: Strahd
Complete Area 575
×3.76e06 ×10,500
Patron: Zariel
Complete Area 600
×5.96e06 ×12,900
Waves
[
]
| Type | Waves | Bosses | Favored By |
| --- | --- | --- | --- |
| armor-based | 0 | 3 | Binwin, Wulfgar |
| beast | 18 | 0 | Minsc, Zorbu, Jaheira |
| construct | 0 | 1 | |
| demon | 1 | 0 | |
| devil | 20 | 4 | |
| fey | 0 | 1 | Minsc |
| fiend | 39 | 8 | Turiel, Havilar, Ezmerelda |
| flying | 15 | 1 | |
| hit-based | 0 | 5 | Binwin |
| melee | 50 | 9 | |
| ranged | 0 | 1 | |
| undead | 4 | 1 | Minsc, Nerys, Zorbu, Ezmeralda |
Wave
Tags
Monsters
Monster Tags
Image
1
Hellish Outdoors
Lesser Imp, Stirge
beast devil fiend flying melee
2
Hellish Outdoors
Lesser Imp, Stirge
beast devil fiend flying melee
3
Hellish Outdoors
Stirge
beast melee
4
Hellish Outdoors
Hellwasp
fiend melee
5
Hellish Outdoors
Hellwasp x10
fiend melee
Boss
Hellish Outdoors
Nightmare
boss fiend hit-based melee
6
Hellish Outdoors
Stirge
beast melee
7
Hellish Outdoors
Lesser Imp, Stirge
beast devil fiend flying melee
8
Hellish Outdoors
Lesser Imp
devil fiend flying melee
9
Hellish Outdoors
Abyssal Fly, Giant Fly
beast flying melee
10
Hellish Outdoors
Abyssal Fly x6, Stirge x4
beast flying melee
Boss
Hellish Outdoors
Barbed Devil
boss devil fiend melee
11
Hellish Outdoors
Stirge
beast melee
12
Hellish, Outdoors
Spined Devil, Stirge
beast devil fiend flying melee
13
Hellish, Outdoors
Spined Devil
devil fiend flying melee
14
Hellish, Outdoors
Hellwasp, Spined Devil
devil fiend flying melee
15
Hellish, Outdoors
Hellwasp x4, Spined Devil x6
devil fiend flying melee
Boss
Hellish, Outdoors
Tanarukk
boss fiend melee
16
Hellish, Outdoors
Hellwasp, Stirge
beast fiend melee
17
Hellish, Outdoors
Stirge
beast melee
18
Hellish, Outdoors
Hellwasp
fiend melee
19
Hellish, Outdoors
Hellwasp
fiend melee
20
Hellish, Outdoors
Hellwasp x8, Stirge x2
beast fiend melee
Boss
Hellish, Outdoors
Bone Devil
boss devil fiend armor-based melee
21
Hellish
Hellwasp
fiend melee
22
Hellish
Hellwasp, Hellwasp Larvae
fiend melee
23
Hellish
Hellwasp
fiend melee
24
Hellish
Hellwasp, Hellwasp Larvae
fiend melee
25
Hellish
Hellwasp x10
fiend melee
Boss
Hellish
Hell Hound
boss fiend melee
26
Hellish
Hellwasp, Hellwasp Larvae
fiend melee
27
Hellish
Hellwasp, Hellwasp Larvae
fiend melee
28
Hellish
Hellwasp
fiend melee
29
Hellish
Hellwasp, Hellwasp Larvae
fiend melee
30
Hellish
Hellwasp x7, Hellwasp Larvae x3
fiend melee
Boss
Hellish
Hellwasp Queen
boss fiend flying hit-based melee
31
Hellish, Outdoors
Hellwasp, Stirge
beast fiend melee
32
Hellish, Outdoors
Bearded Devil, Stirge
beast devil fiend melee
33
Hellish, Outdoors
Bearded Devil
devil fiend melee
34
Hellish, Outdoors
Bearded Devil, Lesser Imp
devil fiend flying melee
35
Hellish, Outdoors
Bearded Devil x1, Spined Devil x9
devil fiend flying melee
Boss
Hellish, Outdoors
Lucille
boss devil fiend armor-based melee
36
Hellish, Outdoors
Bearded Devil, Stirge
beast devil fiend melee
37
Hellish, Outdoors
Bearded Devil, Stirge
beast devil fiend melee
38
Hellish, Outdoors
Vrock
fiend melee
39
Hellish, Outdoors
Bearded Devil, Stirge
beast devil fiend melee
40
Hellish, Outdoors
Bearded Devil x1, Stirge x9
beast devil fiend melee
Boss
Hellish, Outdoors
Demon Zapper
boss construct armor-based ranged
41
Hellish, Outdoors
Spined Devil
devil fiend flying melee
42
Hellish, Outdoors
Lesser Imp
devil fiend flying melee
43
Hellish, Outdoors
Bearded Devil
devil fiend melee
44
Hellish, Outdoors
Dretch, Vrock
demon fiend melee
45
Hellish, Outdoors
Lesser Imp x4, Vrock x6
devil fiend flying melee
Boss
Hellish, Outdoors
Chain Devil
boss devil fiend hit-based melee
46
Hellish, Outdoors
Ghoul
undead melee
47
Hellish, Outdoors
Ghoul
undead melee
48
Hellish, Outdoors
Ghoul, Will-o'-Wisp
undead melee
49
Hellish, Outdoors
Will-o'-Wisp
undead melee
50
Hellish, Outdoors
Will-o'-Wisp x10
undead melee
Boss
Hellish, Outdoors
Dryad Spirt x3
boss fey undead hit-based melee
Transcript
[
]
The Lost Hollyphant
Follow Lulu's cries across Avernus as you race to rescue her!
Area
Goal
Quests & Cinematics

Nayeli:
Stay clear of these trees. Even with Haruman fallen, there's no telling what kind of dark magic they might release.

Jarlaxle:
I've still got eyes on Lulu. But she's not moving...

Celeste:
The hellwasps' venom anaesthetizes their prey after they collect it. She'll be fine, as long as we can catch her in time.

Bruenor:
All our catchin' ability is tied up in our gettin' off o' this hill and back ta tha war machine right quick. So don't let nothin' slow ye down!
1
Defeat 25 Monsters
Swarms of stirges and lesser imps seem intent on keeping you from leaving Haruman's Hill. Time to move!
2
Defeat 25 Monsters
As fast as you drive these creatures back, fresh attackers press in!

Nayeli:
Look! The trees on the lower slopes haven't released their victims.

Celeste:
The magic must be stronger down here. The ritual has weakened it but not undone it. But we can help it along. Come on!
3
Collect 25 Iron Stakes
The last of the Hellriders tortured by Haruman are ready to be freed. Set their souls to rest!
4
Defeat 25 Monsters
The last of the stirges have scattered -- but the hellwasps that claimed Lulu are back in search of more prey!

Bruenor:
Elf, are ye still seein' Lulu?

Jarlaxle:
Well enough that we'll be able to follow her. But the hellwasps aren't the only threats on the air!

Nayeli:
Haruman's death will have been felt by other fiends. We need to get clear of this hill!
5
Defeat the Nightmare
Haruman's fallen mount wasn't the only nightmare protecting the hill. Watch out!
6
Defeat 25 Monsters
Keeping the hellwasps flying with Lulu in sight would be easier if these stirges stayed out of your way!

Bruenor:
Finally makin' some headway against these blasted bloodsucker birds. Keep hittin' 'em!

Jarlaxle:
The hellwasps and Lulu look like they're descending. They must be getting close to wherever they're going.

Bruenor:
Keep watchin'. As long as we got a bearin' ta follow, we'll catch 'em soon 'nuff.
7
Defeat 25 Monsters
The stirges are close to breaking -- just as another force of imps crashes into you!
8
Collect 25 Imp Horns
Clipping these imps' horns might show them you mean business!
9
Defeat 25 Monsters
The bottom of the hill is in sight -- but swarms of flies close in around you!

Nayeli:
Almost to the bottom. I can see the war machine.

Bruenor:
And I can see a blasted barbed devil pokin' around it. Oi! Fiend! Keep yer spikey hands off o' machines that don't belong ta ye. That ain't no ride share!

Jarlaxle:
Good news! He heard you. And is charging straight for us!
10
Defeat the Barbed Devil
A barbed devil means to keep you from reclaiming the war machine and continuing your journey. Hit this fiend hard!
11
Defeat 25 Monsters
With the hellwasps still in sight, you tear across Avernus -- straight into a swarm of stirges!

Jarlaxle:
Is it my imagination, or is this war machine starting to handle somewhat better than it was before?

Bruenor:
Pretty sure it's more about just bein' able ta point it in a straight line toward where ye saw them hellwasps touch down. Long as we don't gotta turn, we might be all right.

Jarlaxle:
Well, good news then. Spined devils coming in from both sides!
12
Defeat 25 Monsters
The stirges are almost under control. But this pack of devil scouts seeks to end your journey!
13
Defeat 25 Monsters
These devils press in relentlessly. Let's clip their wings.

Celeste:
Excellent driving, Bruenor. I think we're catching up to the hellwasp pack. Jarlaxle, can you see anything?

Jarlaxle:
It'd be easier if this machine wasn't bouncing so badly. But... yes! There's Lulu!

Celeste:
They haven't landed yet!

Bruenor:
Looks like we're right on schedule, then. Time ta catch up fer good!
14
Defeat 25 Monsters
You're closing the distance to the hellwasp pack carrying Lulu -- but the spined devils renew their assault!

Jarlaxle:
Hellwasp nests, dead ahead! Are we going to catch them in time?

Bruenor:
We will if I got anythin' ta say about it. Come on, ye infernal machine! Give it all ye got... oi! What's goin' on? We're slowin' down!

Minsc:
Is feral-looking spike orc bashing at engines! Knocking things loose!

Celeste:
That's a tanarukk! An orc corrupted by abyssal power. The devils must have been holding it in reserve as a weapon.

Bruenor:
Well, it's gonna leave us standin' here if we don't take care o' it. Hit it hard!
15
Defeat the Tanarukk
This tanarukk is tearing through the war machine -- but seems keen on taking the fight to you on behalf of the devils that have unleashed it!

Jarlaxle:
The hellwasps are breaking up into smaller swarms. I can't see... no, there she is! Lulu! Hard left, Bruenor!

Bruenor:
Feh! Left's one o' tha two directions this machine don't seem ta understand. But hang on!

Minsc:
Watch course, dwarf! Low-flying wasps are straight there!

Boo:
Squeak!!!
16
Defeat 25 Monsters
The hellwasps carrying Lulu split off for their nests -- even as a defensive force swarms forth to deal with you!
17
Defeat 25 Monsters
A fast turn gets you away from the hellwasps momentarily -- but the stirges stay close!
18
Defeat 25 Monsters
The hellwasps circle around and come in for another assault!

Nayeli:
These wasps are like a wall! Jarlaxle, what do you see?

Jarlaxle:
We're too far behind. There! The bigger nest, straight ahead. They're taking Lulu inside!

Bruenor:
Then I'm gonna get us in close. We're only two steps behind. And there ain't no way we're losin' that little hollyphant now!
19
Defeat 25 Monsters
You've set a course for the nest where Lulu was taken -- but the closer you get, the greater the fury of the hellwasp assault!
20
Defeat the Bone Devil
A bone devil is intent on stopping your war machine's progress. Push through!

Bruenor:
Right! There's hellwasp central, straight up. Elf, ye're sure that's where Lulu went?

Jarlaxle:
Positive. We'll need to get up those chains. And the wasps thankfully don't seem too keen on defending them.

Nayeli:
No doubt most creatures aren't foolish enough to try to enter a nest. But I'm guessing they'll turn out in droves once they realize we're inside.

Bruenor:
Then get weapons ready and keep yer healin' at hand. We need ta get this done, and right quick!

Nayeli:
This place... I can feel the celestial energy being consumed here.

Celeste:
The hellwasps are going to respond in huge numbers when they sense we've entered these drone cells. The larder will be closer to the center of the nest. This is going to be a tough fight.

Minsc:
Minsc and Boo are ready. Defiant we stand! Wasps will be swatted this day!

Boo:
Squeak!

Jarlaxle:
Well, I'm feeling better already. Also, does anyone else hear a rapidly rising, bloodcurdling buzzing sound?!
21
Defeat 25 Monsters
Swarms of hellwasps are drawn to you as you enter the nest. Take them out, or Lulu is lost!
22
Defeat 25 Monsters
The hellwasps are a potent enough threat on their own -- but these vicious grubs have an even greater taste for flesh!

Bruenor:
We're gettin' hit too hard! Can't make no headway!

Delina:
There's so many of them, even area spells aren't having an effect!

Celeste:
I think we might be able to fend them off using alchemy rather than magic. If I can create a repellent, it might confuse them -- and will work doubly effectively in these close quarters.

Bruenor:
Then just tell us what ye need Celeste. But do it quick!
23
Collect 25 Vials of Hellwasp Venom
With the right formulation, the potent venom of these insectoid fiends can be used against them. Collect it, and quickly!
24
Defeat 25 Monsters
The farther you push into the nest, the stronger the defenses arrayed against you. Hit these fiends hard!

Jarlaxle:
There's some kind of different chamber beyond this one. I hope that's the larder ahead.

Bruenor:
Oi! Listen. Do ye hear a howlin'?

Minsc:
That is hell hound! What is stray fiend doing here?

Celeste:
It must have been captured as food. Then when the wasps brought it back here, they realized their mistake.

Jarlaxle:
I think their mistake is about to become our mistake. Look out!
25
Defeat the Hell Hound
A hell hound captured by the wasps has broken loose -- and is attacking everything it can see!

Nayeli:
By all the gods, this larder is a foul place. Lulu!

Bruenor:
There! I can see her! But she's still sleepin' with whatever venom tha wasps filled her with. Hold on, little hollyphant! We're comin' fer ye!
26
Defeat 25 Monsters
You've reached the foul larder of this nest. Now to rescue Lulu before it's too late!

Bruenor:
These wasps and grubs is tryin' ta keep us reachin' Lulu. We gotta push!

Mahadi:
If you were able to push a little in this direction after your friend is safe, I can't tell you how much I'd appreciate it.

Bruenor:
What in... there's a talkin' tiger stuck inta that wall opposite Lulu!

Celeste:
That's no tiger, Bruenor. It's a rakshasa!

Mahadi:
You are most perceptive, noble cleric. I would give you the full honors that one of your obvious rank and bearing clearly deserves... but I fear I find myself somewhat indisposed... and dying...

Nayeli:
There's so much evil in this place I can't get a read on this fiend. On your honor, rakshasa -- if we aid you, you'll owe the Champions a favor that I promise we'll collect.

Mahadi:
On my honor, fair knight... on my... honor...

Bruenor:
They're fadin' fast. If we're doin' this, we gotta do it now!
27
Defeat 25 Monsters
Lulu isn't the only living captive here. You need to reach this rakshasa, and quickly!

Nayeli:
We're making no headway. Curse these fiends!

Celeste:
I can help, I think. The alchemical concoction we've created from the wasps' venom will drive them back if it's released here. But it needs to be released carefully. Everyone to me!
28
Collect 25 Portions of Bee Repellent
When exposed to the foul excretions covering the larder, the augmented hellwasp venom will drive these fiends back. Get to work!
29
Defeat 25 Monsters
As you near the center of the larder, the hellwasps and grubs furiously try to stop your advance!
30
Defeat the Hellwasp Queen
A monstrous hellwasp queen drives its brood servants into a blood rage! Take it down!

Bruenor:
That repellent did tha trick. Them wasps we drove back is stayin' back. Not sure fer how long, though.

Celeste:
Then we need to work quickly. Carefully now, bring Lulu down.

Nayeli:
Don't move while I cut you free, rakshasa. And be very aware of what else this blade can do.

Mahadi:
I assure you fair knight, whatever our... moral incompatibilities, Mahadi is at your service, now and forevermore.

Jarlaxle:
Mahadi? That was the name the warlord Feonor mentioned in the wastes. If you find yourself missing an infernal war machine, I assure you we had nothing to do with it.

Mahadi:
But of course, my friend. Possessions are merely ephemeral in the best of places. And Avernus is... well, far from the best of places.

Bruenor:
Don't mean ta interrupt everybody gettin' acquainted, but them wasps is buzzin' again. Time ta go!

Celeste:
Lulu's still sleeping. I'll need some time with her to clear this venom from her system.

Nayeli:
We need to get onto the war machine first. If the wasps swarm again, we won't get away.

Mahadi:
Oh, my. That's... quite the vehicle you have there.

Jarlaxle:
I admit it doesn't look like much from here. But when you get up close, you'll see that it's actually got quite a bit less than that.

Mahadi:
Well, perhaps at some point, I might be able to help you better equip yourselves for your mission. Which is...?

Nayeli:
None of your concern right now, rakshasa. Unless you're coming with us?

Mahadi:
In fact, no, but thank you. My emporium will be passing by quite near here. And if the wasps are chasing your war machine, I shouldn't have any trouble reaching it. But here, take this token. If you have need, break it, and the imp it summons will bring your message to me.

Bruenor:
Good luck ta ya, then, friend or fiend or whatever ye're like ta be. We gotta move!
31
Defeat 25 Monsters
Your war machine sets off across the blasted hellscape of Avernus once more -- but swarms of stirges and hellwasps are close behind!

Lulu:
Oh... what...? So many dark dreams...

Celeste:
The dreams are over for now, Lulu. You're safe.

Lulu:
But... Haruman's Hill... we were there... yes! I understand now!

Bruenor:
Ye'll need ta fill us in, little hollyphant. There was no sign o' Zariel's sword there, or o' that Alabaster palace Duke Ravengard spoke about.

Lulu:
I was wrong, friends. The hill wasn't the site where the sword was abandoned. It was where I needed to go to see the path I followed out of the wilderness. I know the route now. The Demon Zapper... the Brambles... I know where we need to go!

Lucille:
As I guessed, insolent celestial. And having guessed at your route to keep in front of you, your journey ends here, mortals!

Bruenor:
What tha... it's that pit fiend we fought 'neath Elturel! Tha same one that turned craven and ran soon as tha fight turned against it. So are ye gonna wait again until ye know ye're losin' tha fight? Then ye'll pick' a fine time ta leave us...

Jarlaxle:
Don't. I'm warning you.
32
Defeat 25 Monsters
A force of bearded devils surges before the pit fiend Lucille to breach the war machine's defenses. Drive these fiends back!
33
Defeat 25 Monsters
The bearded devils threaten to overwhelm you. Send them overboard!
34
Defeat 25 Monsters
You have the bearded devils on the defensive -- but a swarm of imps enters the fray on the pit fiend's orders to tip the balance of the fight once more!

Jarlaxle:
She plans to ram us! Hold on!

Lucille:
Rebellious mortal chaff! I will seed the ground of Avernus with your bones and water that crop with the last drops of your blood!

Bruenor:
Ye talk a good game, fiend. But if ye're countin' tha same as I am, ye're understandin' that that wall o' minions ye love ta protect yerself with is gettin' thin. I'll tell ya, since we got ta Avernus, we Champions has had some bad times. We lived through...

Jarlaxle:
Stop! No talking! More fighting!
35
Defeat the Lucille
The pit fiend Lucille regroups its devilish forces for a final assault. Stand fast!

Bruenor:
Just like I thought. That pit fiend loves ta talk, but as soon as it ain't just minions runnin' tha risk o' dyin', it's time ta beat a retreat.

Minsc:
So defiant that fiend is. You heard, dwarf, when your axe finally hit her? She said, 'I'm no quitter...'

Jarlaxle:
All right, seriously! No!

Boo:
Squeak?

Celeste:
My word. Look at that thing.

Lulu:
The Demon Zapper! We need to get past. But it won't be easy.

Bruenor:
Looks like a nasty piece o' work. Only what's that bright light comin' off o' it?

Nayeli:
I'm sensing something... the power of law... a force for good is there, radiating that brilliance.

Lulu:
That's how the Demon Zapper works. Demons are drawn to it, then driven mad with the urge to destroy the bright power there. And when they're close enough, they're consumed.

Nayeli:
Wait... at the center of the light. Is that...?

Celeste:
It's a unicorn! Its life force is being drawn into the device. That must be the bait used to pull the demons in.

Nayeli:
Not for much longer. Let's move!
36
Defeat 25 Monsters
The bearded devils guarding the Demon Zapper are a potent line of defense -- and these swarming stirges won't make the fight any easier!
37
Defeat 25 Monsters
This infernal line is close to breaking. Hit them hard!

Bruenor:
Keep at 'em while they're on tha run! Don't let these fiends reform ranks!

Nayeli:
Jarlaxle, is anything coming up behind us? Wherever that pit fiend has fallen back to, it won't stay away for long.

Jarlaxle:
No sign of anything yet. But the faster we can take this Demon Zapper out and get back on the road, the better off we'll be.
38
Collect 25 Vrock Feathers
Vrocks on their way to destroy themselves in the Demon Zapper swarm chaotically around you. Clip these fiends' wings and send them off!
39
Defeat 25 Monsters
As the last of the vrocks fall, the bearded devils regroup for another assault!

Mooncolor:
So tired... so much suffering...

Nayeli:
Hold on, fair one. We're coming for you. Your imprisonment will end!

Mooncolor:
Is it true? After so long? I fear to believe it...

Bruenor:
'Tis as true as anythin' can be in this infernal realm, friend. But tha Champions has come fer ye -- and we're takin' down this Demon Zapper right here and now!
40
Defeat the Demon Zapper
The Demon Zapper packs a potent punch -- and these bearded devils will protect it to the bitter end!

Mooncolor:
My strength... my light returned... oh, thank you, friends. I am Mooncolor, and long have I dreamed of release from this dark fate.

Celeste:
Your sadness is done for now, Mooncolor. The Demon Zapper is destroyed. But will you be able to make your way home?

Mooncolor:
When I can, I shall. But I will roam a while first. There is evil in this realm that must be fought. And I have been held fast for too long.

Bruenor:
Well, good huntin' ta ye, friend. And maybe we'll see ye again before finally settin' things right.

Bruenor:
More devils comin' in. We gotta get past 'em if we're gonna get clear.

Ralzala:
They'll only follow you. You won't escape their vengeance for destroying this site... except with my help.

Minsc:
Agh! Stone person comes up from the ground! Watch out!

Celeste:
That's a dao, Minsc. And if they'd wanted to hurt us, I suspect they would have already.

Ralzala:
You are perceptive for an outworlder. Our meeting is fortuitous, perhaps. I am Ralzala, bound by servitude to Zariel to watch over this place -- and I can keep your escape hidden from the devils who will come seeking vengeance. Including the pit fiend Lucille, who you are wise to fear.

Jarlaxle:
I'm sensing an 'in exchange for...' coming right up.

Ralzala:
Indeed. My price is the contract that binds me. I sought to make use of Zariel's power long ago. But now... I have had enough of serving evil.

Bruenor:
Gonna need ya ta hold that thought, dao. And if ye're talkin' truth about wantin' ta help us, a bit o' distraction would go a long way!
41
Defeat 25 Monsters
The watcher of the Demon Zapper seems an unlikely ally -- but against these spined devils, you'll take all the help you can get!
42
Defeat 25 Monsters
A pack of imps is all that keeps you from sealing the bargain with Ralzala and getting on the road again. Push through!

Celeste:
Your assistance was most welcome, Ralzala. But our time is short. What will it take for you to help conceal our path from the devils?

Ralzala:
Break my contract with Zariel. A simple thing, for one who knows how.

Bruenor:
Let's assume fer a minute that one o' them who knows ain't one o' us. We got our own Zariel contract we're worryin' about right now, and still no clear sense o' what we're ta do with it.

Ralzala:
Then for your sake and mine, seek the Brambles. Red Ruth is there. A night hag. She will help. But remember your promise.

Lulu:
The Brambles... yes! A twisted wood, slaked with blood. I came through there, before.

Celeste:
Our word is our bond, Ralzala. If this Red Ruth can provide useful information, you'll be doing us two favors. And we'll return those favors. We'll free you if we can.
43
Defeat 25 Monsters
Bearded devils swarm the war machine as you get underway. Speed up and get out of here!
44
Defeat 25 Monsters
With the Demon Zapper's draw on them ended, this pack of vrocks and dretches is out of control!
45
Defeat the Chain Devil
A chain devil leads a mob of lesser imps against the last of the vrocks -- and you and the war machine are caught in the middle!

Jarlaxle:
Slow this machine up! Sudden change of landscape, dead ahead.

Bruenor:
Warped trees... vines lookin' like bones... and is that blood soakin' inta tha topsoil?

Celeste:
I fear that if we take the war machine into that maze, we'll never get it out again. It'll be best if we go in on foot.

Jarlaxle:
This place is definitely not winning any top-garden honors. Unless there's a competition with an abattoir category...

Bruenor:
These woods is dangerous unnatural, top ta bottom. Gives me tha willies, it does.

Celeste:
We're going to need to navigate carefully. Then we have to convince this Red Ruth that we need a favor.

Minsc:
Minsc will find safe routes. Everyone, follow!
46
Defeat 25 Monsters
Navigating the Bone Brambles in search of a night hag is challenge enough -- but the ghoul packs that roam this twisted wood are out for blood!
47
Defeat 25 Monsters
Another force of ghouls pushes out from the trees! Don't let them hem you in!

Bruenor:
Celeste, careful! Don't be touchin' them bodies in tha trees. Ye don't know where they been.

Celeste:
I think I do, though, Bruenor. These are dryads, corrupted and poisoned by some manner of foul magic. Their spirits most likely still roam this place, tortured by what they've become.

Nayeli:
So much evil in Avernus. Is there anything we can do for them?

Celeste:
Perhaps. I have an idea...
48
Collect 25 Bone Bramble Samples
These unnatural woods still hold the potent magic of the dryads who fell here. Sample that magic, and quickly!
49
Defeat 25 Monsters
More will-o'-wisps circle close, seeking to feed on your fear!

Nayeli:
The will-o'-wisps are closing in. But they're not alone!

Celeste:
The spirits of the dryads have come. I can use the magic of their fallen grove to help defeat them. But we need to act quickly!
50
Defeat the Dryad Spirits
The cursed spirits of the dryads whose magic spawned these woods deserve to have their suffering ended. Send them to their rest!

Bruenor:
That weren't tha most pleasant fight. But them dryads is at peace now, wherever they've gone.

Celeste:
I like to think their spirits have returned to the mortal realm, to become one with nature again. But we might have to ask the one who brought them here in the first place. Red Ruth? You've been watching, haven't you?

Red Ruth:
Oh, clever mortals! Find your way to Red Ruth's lair. Find your way through Red Ruth's mazes! Find yourself becoming Red Ruth's new pets, yes?

Nayeli:
I believe you might have miscalculated the balance of power if this comes to a fight, hag. But thankfully for you, that's not why we're here.

Red Ruth:
Oh! A social call? Favors to be asked? What a thrill for Red Ruth. So come. Come! Follow me...
Previous: The Path of Dreams
Next: The Wandering Emporium
Adventures
 

Without Campaign

In the folds of time-space