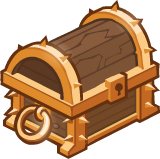 Chests are unlockable and will contain Gear and or Items and or Gold, which is dependent on your current level. There are Gold Chests and regular chests, each can be bought with Gems or can be bought with real currency.
Description
[
]

Chest contains Items and Gear of different rarities depending on chest type. It is possible to find shiny gear which increases the effect of this gear by 50%.
Silver Chests contain 3 cards (Common to Uncommon rarity). They always contain one equipment and one gold card. There is a chance of dropping "Rare" equipment cards, but they do not contain "Epic" equipment cards.

Chance of a Rare drop in a Silver Chest is approximately 3.2%. (Source)

Gold Chests contain 5 cards (Uncommon to Rare rarity). They always contain two equipment cards (at least one Rare), one bounty contract and have a chance of dropping an Epic equipment card.

Chance of a Rare drop in a Gold Chest is 100% and an Epic drop is at least 10%. (Source)

You only get gear in chests up to the highest Champion you've unlocked. (Source)
Gold chests should be opened immediately, as they contain 5 Items, which can be either usable or Gear for your Champions.
Silver chests are better to be opened at the point when you're about to reset.

Silver chests contain lower tier Gear and gold, which is why you want to use it later, since amount of gold you receive seem to be dependent on the the level you are on right now.
Each Event has its own kind of chest which works on the same way as the regular silver and gold chest with one exception. The dropped Gear belongs to the Event related Champion.
Which chests to buy?

Usually a personal preference, honestly. But having a chance to get one or two very, very powerful items in a Gold Chest seem much better than getting ten mediocre ones. However the math could be different to see which is better in the long run.
List of Chests
[
]
Champion Chests
[
]
All event champion chests are also available from their respective Time Gates in a limited amount.
Removed/Replaced Champion Chests
[
]
| Name | Silver / Gold | Availability | Gear |
| --- | --- | --- | --- |
| Diath | | Midsummer (Was replaced with Xander chests.) | |
Weekend Chests
[
]
| Name | Gold | Availability | Gear |
| --- | --- | --- | --- |
| Gold Snowy Chest | | | |
| Gold Chultan Chest | | | |
| Gold Wayside Chest | | | |
| Gold Neutral Chest | | | |
| Gold Evil Chest | | | |
| Gold Chaos Chest | | | |
| Gold Good Chest | | | |
| Gold Spring Chest | | | |
| Gold Lawful Chest | | | |
| Gold Companions' Chest | | | |
| Gold Force Grey Chest | | | |
| Gold Bird-Loving Chest | | | |
| Gold Tough Chest | | | |
| Gold Magic Chest | | | |
| Gold Warrior Chest | | | |
| Gold Stuffed Chest | | | |
| Gold Googly-Eyed Chest | | | |
| Gold Gentlemen Chest | | | |
| Gold Adventurers' Chest | | | |
| Gold Minion Chest | | | |
| Gold Gate Chest | | | |
| Gold Scroll-Filled Chest | | | |
| Gold Chaotic Chest | | | |
| Gold Storyteller Chest | | | |
| Gold Many-Horned Chest | | | |
| Gold Pummeled Chest | | | |
| Gold Puzzle Cube Chest | | | |
| Gold Friend Chest (Ishi) | | | |
| Gold Warband Chest | | | |
| Gold Weave-Bound Chest | | | |
| Gold Band Chest | | | |
| Gold Mithral Chest | | | |
| Gold Heist Chest | | | |
| Gold Dice Chest | | | |
| Gold Sheaf Chest | | | |
| Gold Brimstone Chest | | | |
| Gold Rampage Chest | | | |
| Gold Story Chest | | | |
| Gold Crew Chest | | | |
| Gold Runic Chest | | | |
| Gold Friend Chest (Farideh) | | | |
| Gold Battlegroup Chest | | | |
| Gold Returning Hero Chest | | | |
| Gold Jungle Chest | | | |
| Gold Welcome Chest | | | |
| Gold Braggy Chest | | | |
| Gold Protected Chest | | | |
| Gold Wild Chest | | | |
| Gold Watchful Chest | | | |
| Gold Exotic Chest | | | |
| Gold Inventive Chest | | | |
| Gold Cruel Chest | | | |
| Gold Owlbear Chest | | | |
| Gold Zither Chest | | | |
| Gold Distressed Chest | | | |
| Gold Trapped Chest | | | |
| Gold Murderbot Chest | | | |
| Gold Fit Chest | | | |
| Gold Honeycomb Chest | | | |
| Gold Spiritual Chest | | | |
| Gold Non-Mimic Chest | | | |
| Gold Misfits Chest | | | |
| Gold Gust Chest | | | |
| Gold Spider-Climb Chest | | | |
| Gold Feywild Chest | | | |
| Gold Kobold Chest | | | |
| Gold Descent Chest | | | |
| Gold Scourge Chest | | | |
| Gold Rage-Filled Chest | | | |
| Gold Well-Aligned Chest | | | |
| Gold OK Chest | | | |
| Gold Petrified Chest | | | |
| Gold Feathered Chest | | | |
| Gold Stock-Up Chest | | | |
| Gold Zombified Chest | | | |
| Gold Rebalanced Chest | | | |
| Gold Ranged Chest | | | |
| Gold Measured Chest | | | |
| Gold Together Chest | | | |
| Gold Documented Chest | | | |
| Gold Allied Chest | | | |
| Gold Welcoming Chest | | | |
| Gold Skulking Chest | | | |
| Gold Dashing Chest | | | |
| Gold Lucky Chest | | | |
| Gold Courageous Chest | | | |
| Gold Heroic Chest | | | |
| Gold Splattered Chest | | | |
| Gold Magical Chest | | | |
| Gold Versatile Chest | | | |
| Gold Quest-Filled Chest | | | |
| Gold Lowlands Chest | | | |
| Gold Cloned Chest | | | |
| Gold Pristine Chest | | | |
| Gold Dark Days Chest | | | |
| Gold Dusty Chest | | | |
| Gold Screened Chest | | | |
| Gold Mithral Chest | | | |
| Gold Hexed Chest | | | |
| Gold Arkhan's Army Chest | | | |
| Gold Stained Chest | | | |
| Gold Broken Chest | | | |
| Gold Arrow-Filled Chest | | | |
| Gold Grubby Chest | | | |
| Gold Ruby Chest | | | |
| Gold Secret Chest | | | |
| Gold Twothbrush Chest | | | |
| Gold Packaged Chest | | | |
| Gold Sprung Chest | | | |
| Gold Shadow Chest | | | |
| Gold Hooked Chest | | | |
| Gold Extra-Golden Chest | | | |
| Gold Shelled Chest | | | |
| Gold Hugged Chest | | | |
| Gold Footprint Chest | | | |
| Gold Armored Chest | | | |
| Gold May Day Chest | | | |
| Gold Solwynn Chest | | | |
| Gold Hunted Chest | | | |
| Gold Shielded Chest | | | |
| Gold Pebbled Chest | | | |
| Gold Shifted Chest | | | |
| Gold Kissed Chest | | | |
| Gold Tartan Chest | | | |
| Gold Legends Chest | | | |
| Gold Wittled Chest | | | |
| Gold Snakeskin Chest | | | |
| Gold Book-End Chest | | | |
| Gold Striking Chest | | | |
| Gold Rainbowed Chest | | | |
| Gold Whisker Chest | | | |
| Gold Egg Chest | | | |
| Gold Undermountain Chest | | | |
| Gold Historical Chest | | | |
| Gold Bold Chest | | | |
| Gold Rime Chest | | | |
| Gold Feathered Hat Chest | | | |
| Gold Experimental Chest | | | |
| Gold Ichor Covered Chest | | | |
| Gold Scrappy Chest | | | |
| Gold Giant's Bane Chest | | | |
| Gold Dragonscale Chest | | | |
| Gold Maze Chest | | | |
| Gold Freezing Chest | | | |
| Gold Coin-Filled Chest | | | |
| Gold Agile Chest | | | |
| Gold Tactical Chest | | | |
| Gold Starbust Chest | | | |
| Gold Radiant Chest | | | |
| Gold Heroes of Aerois Chest | | | |
| Gold Holiday Chest | | | |
| Gold Hunter Chest | | | |
| Gold Cold Chest | | | |
| Gold Grambar's Blades Chest | | | |
| Gold Bovine Chest | | | |
| Gold Dungeon Director Chest | | | |
| Gold Add Venture Chest | | | |
| Gold Glowing Chest | | | |
| Gold Frilly Chest | | | |
| Gold Sunken Chest | | | |
| Gold Ancient Chest | | | |
| Gold Speedy Chest | | | |
| Gold Commentator Chest | | | |
| Gold Orator Chest | | | |
| Gold One-Hew-Maan-Band Chest | | | |
| Gold Flaming Chest | | | |
| Gold Tidal Chest | | | |
| Gold Netherese Chest | | | |
| Gold Smores Chest | | | |
| Gold Illusion Chest | | | |
| Gold Coast Chest | | | |
| Gold Rock Star Chest | | | |
| Gold Twin Chest | | | |
| Gold Winged Chest | | | |
| Gold A-maze-ing Chest | | | |
| Gold Spiky Chest | | | |
| Gold Silvershield Chest | | | |
| Gold Sun Chest | | | |
| Gold Moon Chest | | | |
| Gold Shard Chest | | | |
| Gold Painted Chest | | | |
| Gold Performance Chest | | | |
| Gold Cloudy Chest | | | |
| Gold Barred Chest | | | |
| Gold Charred Chest | | | |
| Gold Weighted Chest | | | |
| Gold Fey Chest | | | |
| Gold Contract Chest | | | |
| Gold Blasted Chest | | | |
| Gold Big Top Chest | | | |
| Gold Spinnaker Chest | | | |
| Gold Weapons Chest | | | |
| Gold Powered Chest | | | |
| Gold Pumpkin Chest | | | |
| Gold Polymorphed Chest | | | |
| Gold Captain Boo Chest | | | |
| Gold Freshly Painted Chest | | | |
| Gold Branched Chest | | | |
| Gold Blazed Chest | | | |
| Gold Spotlight Chest | | | |
| Gold Pirate Chest | | | |
| Gold Gingerbread Chest | | | |
| Gold Candy Cane Chest | | | |